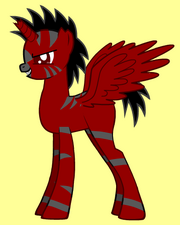 Mega is an evil pony who wants to take over the world. Half of his ear was bitten off at the age of 8. His horn was bitten off at the age of 19, so he can only use his wings. He had a very hard life when he was young, causing him to be evil.
Early Life
Edit
Mega's childhood was really hard, his mother and father died when he was only 2 years old, so he had to live with his mean grandparents. He had no brothers or sisters, as they all died aswell. At the age of 8, he was attacked by wolves, and they bit off his ear. At the age of 19, the wolves attacked him again, his horn was bitten off. He was always bullied aswell. At the age of 27, he decided that enough was enough, he wanted to get revenge on everyone, so he turned evil.
Ad blocker interference detected!
Wikia is a free-to-use site that makes money from advertising. We have a modified experience for viewers using ad blockers

Wikia is not accessible if you've made further modifications. Remove the custom ad blocker rule(s) and the page will load as expected.